We provide a full suite of professional services to cater for all our customers needs, we've got a short list below but please feel free to contact us regarding more custom work.
Fuse Board Upgrades
Your fuse board or consumer unit is the heart of your electrical installations. We can carry out repairs or full upgrades to the latest standards in accordance with the wiring regulations. If you are unsure if you need a new fuse board we are happy to carry out a visit at no charge to discuss your options.
Full & Part Rewires
Rewiring, either partial or fully, is sometimes necessary in order to rectify faults, replace very old or damaged cables or, in some cases, rectify DIY electrical installations that do not comply with current safety standards.
Outside Power & Lighting
Outside power and lighting (including hot tubs, swimming pools, ponds, sheds, garages & greenhouses) requires special consideration under the wiring regulations. DMB Electric are able to carry out all external electrical installations to ensure compliance with the regulations and therefore adhering to the safety standards using correct outdoor rated cabling and only installing fittings suitable for all weather conditions.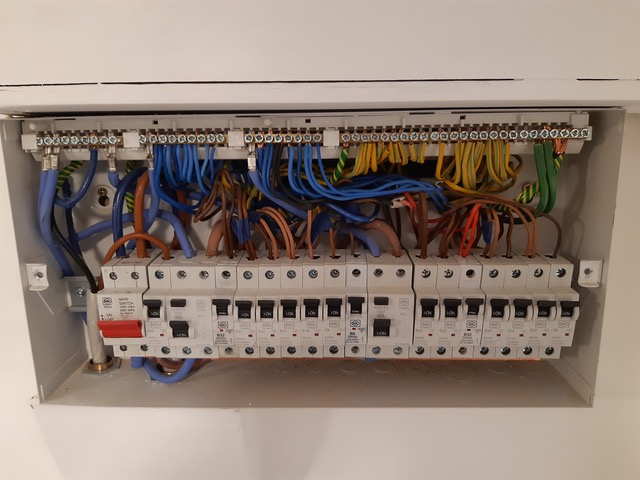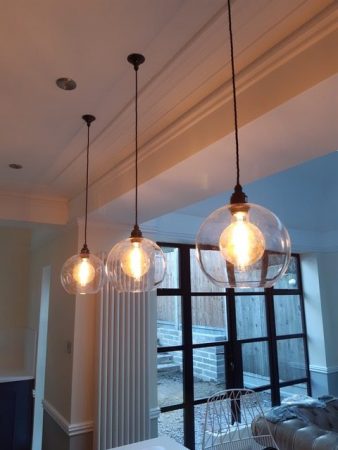 Full testing & Fault Finding
Faults can occur anywhere and at any time in the home. These can be caused by many things including water leaks, rodents or poor DIY work. We will carry out numerous tests to identify, locate and rectify any fault at any time day or night. For emergency faults and out of hours call our emergency line: 07555 313418
Custom Work
As technology moves on, we at DMB Electric move with it. No matter how complex your requirements we will sit down with you and help you achieve your dreams
Additional Plug Sockets & Switches
With a growing reliance on technology, every house can use more sockets and switches. DMB Electric can match your existing fixtures and provide high quality, guaranteed work.
New & Replacement Light Fittings
Modern, high specification LED, remote and automated lighting is very common place these days. Bespoke and challenging lights require high quality work, DMB Electric excels in these very modern systems. Of course we are always happy to install more simplistic lights if required.
Extension & Loft Electrics
Extensions and Loft Conversions are a great way to increase the value of your property, DMB Electric have many years experience in carrying out new electrical installations each tailored to your precise requirements. For top quality lofts and extensions see :
https://www.agllofts.com/